5 Most Visited Photogenic Bridges In Vietnam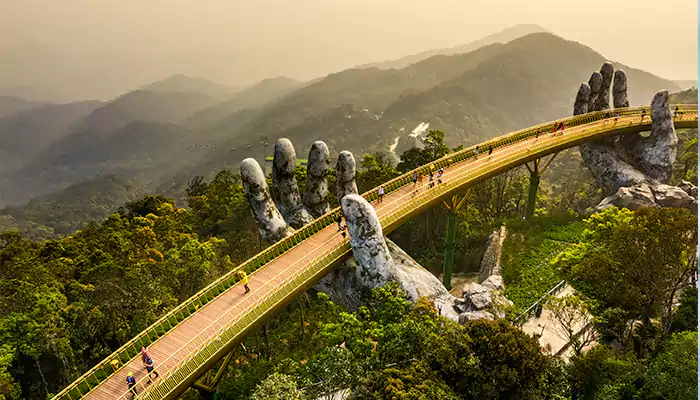 Many people, locals and tourists alike find these bridges in Vietnam to be interesting historical sites and perfect places to photograph themselves. Here are some of the bridges you must visit if you are in town.
Bridges are beautiful works of architecture that not only join two places but also overlook some of the most fascinating landscapes. This is probably why scenery overlooking a bridge gives you the best photographs. We have the perfect places in stock if you have been looking for destinations to click your photos. Read on to know them all.
Truong Tien Bridge In Hue City
Truong Tien Bridge, commonly referred to as Trang Tien Bridge, is a pedestrian bridge over the Huong River in the center of Hue City. The bridge has served the city of the old capital for over a century as a vital transportation link and a testament to the city's past.
Hanoi's Long Bien Bridge
Long Bien Bridge, like the Truong Tien Bridge of Hue, the old capital, is recognized as a historical landmark in Hanoi. The bridge, made entirely of iron bars and spans the Red River, is a popular hangout for local youth. Visitors may take in breathtaking views of Hanoi and the Red River from this bridge's vantage point. The rustic beauty is what attracts tourists far and wide to this location.
Da Nang's Golden Bridge
The Golden Bridge in Da Nang is one of the most well-known landmarks in this S-shaped country. The 68-meter-long bridge resembles a silk ribbon held aloft by two enormous hands as it stretches over the valley between two peaks. From the bridge's center, sightseers may take in the lush vegetation and the picturesque surroundings of Da Nang. This is a must-visit country and one of the most popular tourist attractions.
Mong Bridge At Ho Chi Minh City
Young people in the city frequently visit this historic bridge to snap pictures. In addition, pedestrians may now easily cross between Districts 1 and 4 through the newly constructed Mong Bridge. The bridge overlooks Bach Dang Wharf or a Bitexco building, providing a distinctive background for photographs.
Chua Cau (the Pagoda Bridge)
The distinctive construction and the impression of an old temple make this 18-meter-long wooden bridge across a tiny canal a popular photo-op for visitors. It is also a stunning representation of Hoi An's historical significance. It connects two major streets of Hoi An and Old Quarter and creates the perfect background to pose at.