Ha Long Bay is Listed among the Top Ten Tourist Destinations in the World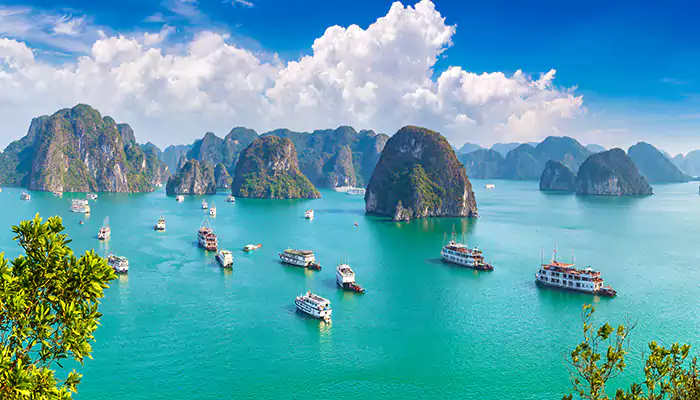 According to Canadian travel publication The Travel, the UNESCO heritage site Hạ Long Bay in the northern province of Quảng Ninh, Vietnam is one of the best and most beautiful tourist destinations in the world and it's also listed among the top ten most beautiful tourist destinations across the world.
Hạ Long Bay is listed among the top ten best tourist destinations in the world. Only two places from South East Asia made it to the list and the second one is Cambodia's Angkor Wat temple complex. Topping The Travel's list of 10 of 2022's most beautiful places around the world and Zhangjiajie National Park in China topped the list whose landscapes inspired Hollywood director James Cameron for his movie Avatar.
The magazine further said "This 200+ square mile national park has hundreds of towering sandstone pillars. The area is often covered in low clouds, making the pillars appear to float out of the haze, creating a scene that looks too beautiful to be!" The seven more on the list were Venice (Italy), Yellowstone National Park (US), Angkor Wat (Cambodia), Santorini (Greece), Salar de Uyuni (Bolivia), Patagonia (Chile), Bora Bora (French Polynesia), and Banff National Park (Canada).
Earlier this year in March, The Travel listed Vietnam's Hạ Long Bay among the top 10 places in Asia one shall visit at least once in their lifetime. According to British travel magazine Rough Guides Hạ Long Bay is one of the 10 best UNESCO sites in Asia in. Ha Long Bay is located in Quảng Ninh Province, and it takes two hours from Hà Nội. It was declared a UNESCO World Heritage Site in 1994 and appreciated by the World Heritage Committee in 2000. On the website of UNESCO, they wrote about it which goes like, "It forms a spectacular seascape of limestone pillars and is an ideal model of a mature karst landscape developed during a warm and wet tropical climate. The property's exceptional scenic beauty is complemented by its great biological interest,". In 2022, an estimated 1.5 million tourists came to Hạ Long Bay.