Here's how to eat walnuts to obtain maximum benefits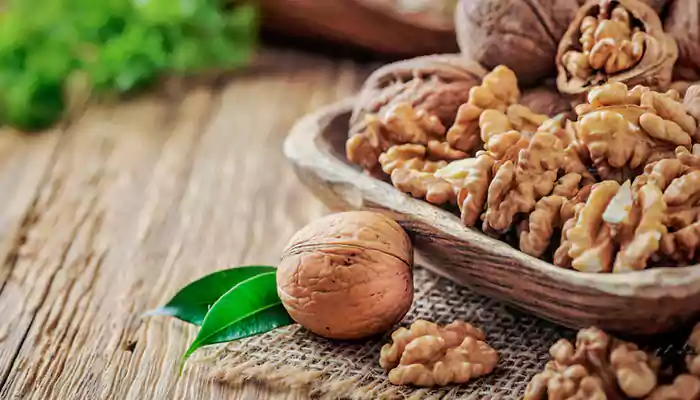 Walnuts are known to be highly beneficial for human health.
But there are certain ways to eat walnuts to obtain the maximum benefits.
Here's more!
Walnuts are beloved all around the world, and for good reason. These brain-shaped nuts taste delicious and can be consumed either raw or added to several dishes. Also, they are an excellent source of dietary fiber, vitamins, minerals, protein, carbohydrates, healthy fats, and antioxidants. Hence, daily intake of walnuts is beneficial to support digestion, aid in weight loss, manage type-2 diabetes, regulate blood pressure, and enhance skin & hair health.
Well, simply eating raw walnuts (without the outer shell) every day can significantly improve your overall health. However, there are some proven methods that you can use to get more benefits.
So, what should you do?
The process is very simple. All you need to do is take 5-6 walnuts and soak them in a cup of water overnight. Have them first thing in the morning.
This makes the walnuts easily digestible in your body. Also, this may help your body to absorb most nutrients from them. What's more, eating soaked walnuts is effective at lowering LDL cholesterol levels in your blood. This, in the long run, can reduce your risk of developing cardiovascular diseases as well.
How to add walnuts to your diet?
There are several ways to add walnuts into your diet.
You can use them as toppings in oatmeal for breakfast. This will make the dish both tastier and healthier at the same time.
Walnuts make for an amazing ingredient in porridge. You can also use almond powder, cinnamon, vanilla extract, etc. here. This is considered among the healthiest breakfast options.
These nuts can be used to bake a variety of cakes. Also add bananas, almond milk, chocolate, cashews, etc. to make it tastier.
Mint & walnut chutney is a popular dish in North India. The dish is flavorful, easy-to-make, and also offers an impressive range of health benefits. It also involves the use of garlic, chili, salt, pepper, and water.
You can add walnuts to the salad as well. Just slice down some gala apples, and mix them with lettuce, olive oil, red onions, balsamic vinegar, Dijon mustard, organic honey, mustard, and walnuts.
So, start eating walnuts every day, and see the results!